At some point, most of us would like to photograph our 3D printed objects. That is certainly true when you write or teach about 3D printing.
While I have a full-frame Canon 5D MK II with professional "L" lenses, most of the time using it for quick photos to post here or to include in my video training materials is just plain overkill. It's a pretty heavy rig and what I usually need is something a bit quicker and easier to handle.
I've used my iPhone and even a GoPro to grab quick images. But, what I really needed was something with a good macro capability that took reasonably good images.
I was finally prompted to action by my daughter's need for a camera with macro capabilities to shoot her artwork.
In the end, we tried two different cameras... one very successfully, the other not.
Let's start with the "NOT".
My first choice was the
Nikon L840
at $199. The price was certainly reasonable and the lens promised to do exactly what both of us needed. The reticulated screen was also appealing. I had used such a screen on my first serious digital DLSR, the Olympus E-10 ten years ago and knew the value when shooting small objects,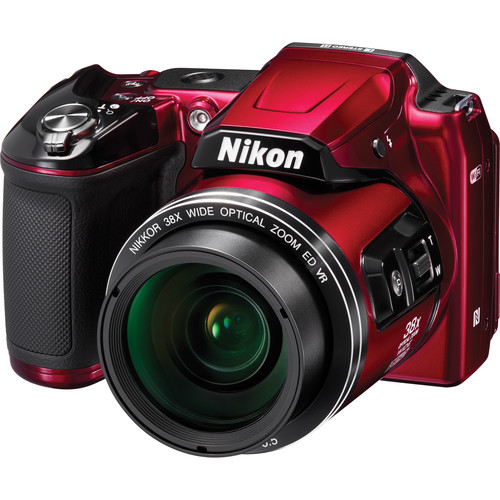 Nikon L840
But, it turned out that focusing the L840 was just plain too slow. After many attempts to get it to work as I needed it to work, I gave up. Besides, it was the first and only camera I had ever used where the preview was in focus; but, the final image was not!!! Even using a tripod and timer to avoid any shake, it seemed to have a problem grabbing a sharp final image.
Unfortunately, by the time I figured that it was not going to be acceptable, it was too late to return it.
To be fair, this may be a defective camera. It happens. So, I will send it in to Nikon to see if it can be improved. But, in the meantime it was time to move on.
Now let's turn to the "SUCCESSFULLY".
For several years, since I first purchased my Panasonic HC-X920 3MOS Video camera, I have been following
Graham Houghton's Youtube channel
. While my primary focus was on those offerings related to video, I also knew that he had produced some material on a Panasonic bridge camera called the
Panasonic Lumix DMC-FZ200
.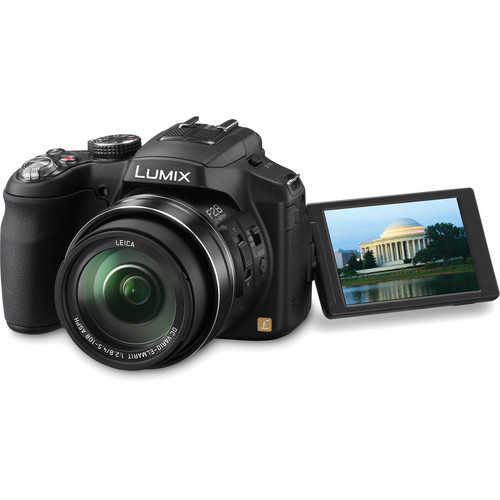 Panasonic Lumix DMC-FZ200
I already knew that Graham Houghton was a person that could be trusted when it comes to reviews and evaluations, so I decided to take a close look at this camera he seemed to like so much. I was shocked to find that the Lumix FZ200 was just $47 more than the Nikon L840 and the feature differences would have suggested a MUCH wider price gap! So, I decided to try one.
I could not be happier. While the FZ200 can be operated in fully automatic point & shoot mode, it's comprehensive manual controls make it EXACTLY to right camera for my need to provide my students and you the perfect images to demonstrate 3D printing concepts. Moreover, while it is no $3000 full-frame SLR, it has most of the features I am used to relying on with my professional cameras. The lens, for instance, is f2.8 across the entire zoom range!
You can see from the two images that the L840 does not have a hot-shoe while the FZ200 does. This also make it a good second camera for shooting events or adding an off-camera flash for macro photography. The Nikon L840 only shoots in .JPG; while, the FZ200 shoots in RAW as well as .JPG! All in all, the $47 price difference buys you a LOT more camera!
By the way, the 1080p video (Either MPEG-4 AVCHD or MPEG-4) is stunning for a camera of this price and it can even shoot High Speed Video up to 240 frames per second! That's going to come in handy when documenting 3D printing artifacts and issues!
My Conclusion
Frankly, having owned a wide variety of point & shoot and SLR cameras over many years. I consider the DMC-FZ200 to be THE best value in a camera among all that I've ever purchased.
In fact, if you have never owned an SLR or, are not willing to invest at least an additional $600 in an f2.8 lens, then I would choose the FZ200 over any SLR on the market. At $247, it is an incredible camera for any level of expertise. I now know why Graham Houghton was so appreciative of it. I join him in being an equally enthusiastic fan.
The Icing on the Cake
All that capability would be worthless without expert guidance to make things easy. And, once again, Graham Houghton has come to the rescue. He has written a fantastic book for novices and professionals on the FZ200 that introduces using the camera in an organized presentation that takes the mysteries out of getting the most out of its features. It's called the
The Panasonic Lumix FZ200 User's Manual eBook.
Sooner or later, many of you will be looking for a camera for yourself or a loved one.
Before making that decision, I hope you will hop over to
Graham Houghton's blog
where he covers a variety of photographic topics well beyond the FZ200.
You will be very happy you did.
In the meantime, I will be using the DMC-FZ200 to document the super detail of the print from the ProJet 1200 micro-SLA printer. So, stay tuned!